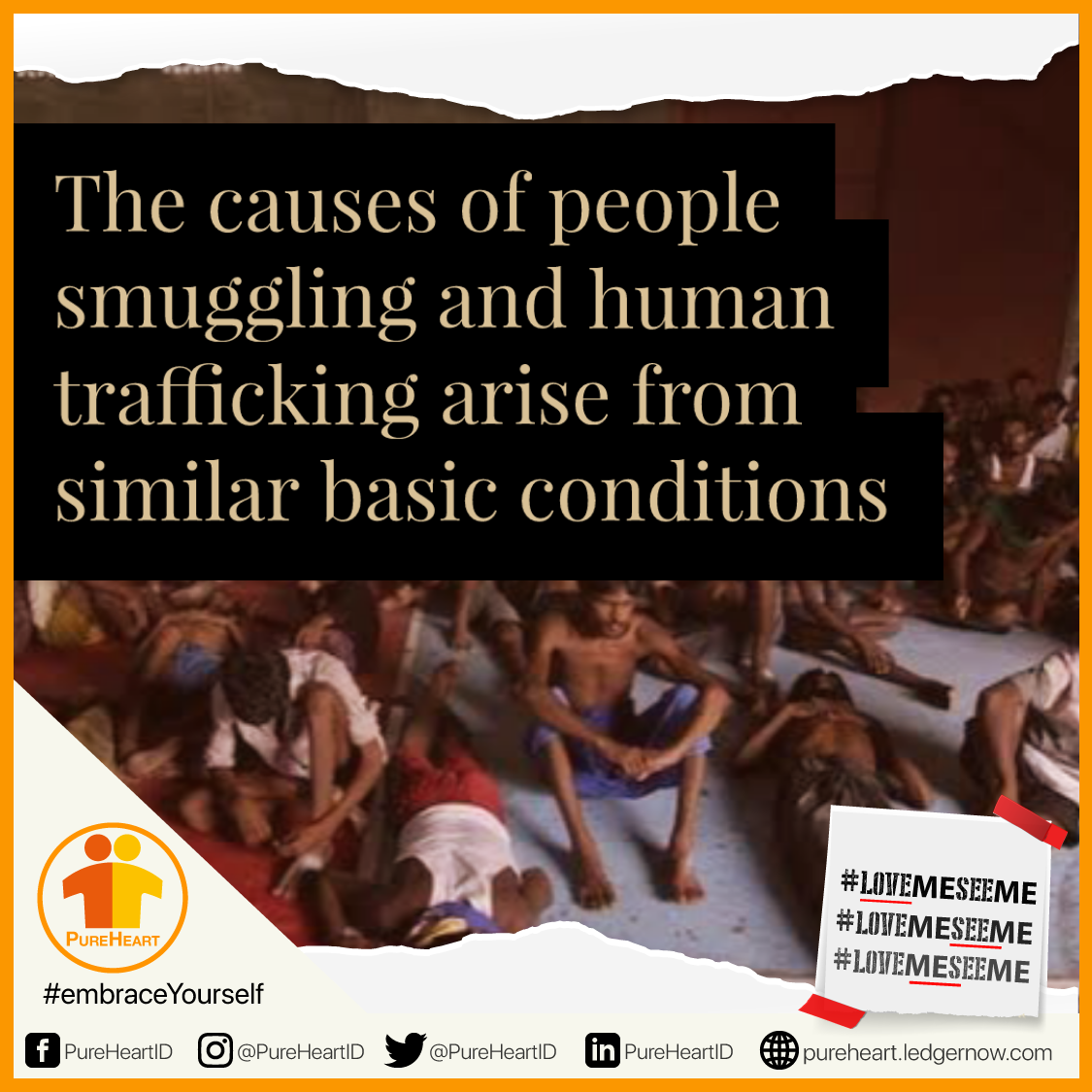 Penyebab penyelundupan manusia dan perdagangan manusia muncul dari kondisi mendasar yang serupa
Perdagangan manusia adalah bentuk dari perbudakan modern, mereka diperdagangkan untuk melakukan kerja paksa dan eksploitasi seksual. Sedangkan penyelundupan manusia kondisi dimana seseorang dari negara lain mencoba masuk ke negara tujuan tanpa proses imigrasi yang sesuai. Dalam kasus perdagangan dan penyelundupan manusia, tuntutan ekonomi membuat mereka harus memenuhi kebutuhan dalam kehidupan sehari-hari mereka. Akan tetapi, realitanya, mereka malah dipaksa menjadi pekerja kasar di negara lain tanpa diupah sama #LoveMeSeeMe (https://pureheart.ledgernow.com/category/love-me-see-me/
Pemerintah harus memainkan perannya sebagai pembuat kebijakan untuk lebih ketat dalam menerapkan kebijakan yang telah dibuat, disepakati bersama dan kebijakan tersebut disesuaikan untuk kondisi yang terjadi sekarang maupun di masa yang akan datang dan selain langkah cepat pemerintah dalam penerapan kebijakan, para birokrat pun harus konsisten dengan sumpah yang telah mereka ucapkan sebelum menjabat.
PureHeart mengajak kita semua untuk membuka mata melihat adanya perdagangan manusia dan eksploitasi yang terjadi disekitar kita dan membuka pikiran untuk berperan aktiF melawan perdagangan manusia karena mereka pantas untuk menentukan kehidupannya melalui Program #LoveMeSeeMe
Bekerjasama dengan YONK salah satu bisnis yang menciptakan aplikasi manajemen keuangan untuk mengelola arus keuangan lebih aman sehingga, dapat membantu untuk melaporkan para pekerja migran yang belum menerima gaji dengan melihat transaksi dari luar dan dalam negeri. Informasi mengenai YONK dapat dilihati di www.yonk.io
The causes of people smuggling and human trafficking arise from similar basic conditions
Human trafficking is a form of modern slavery, they are trafficked to do forced labor and sexual exploitation. Whereas human smuggling is a condition where someone from another country tries to enter a destination country without an appropriate immigration process. In the case of human trafficking and smuggling, economic demands make them have to fulfill their daily needs. However, in reality, they were forced to become unskilled laborers in other countries without being paid by #LoveMeSeeMe (https://pureheart.ledgernow.com/category/love-me-see-me/)
The government must play its role as a policy maker to be more stringent in implementing policies that have been made, mutually agreed upon and the policy is adapted to conditions that occur now and in the future and in addition to the government's rapid steps in implementing policies, bureaucrats must also be consistent with the oath which they said before taking office.
PureHeart invites all of us to open our eyes to see human trafficking and exploitation happening around us and to open our minds to play an active role against human trafficking because they deserve to determine their lives through the #LoveMeSeeMe community.
In collaboration with YONK, one of the businesses that creates financial management applications to manage financial flows more safely so that, it can help to report migrant workers who have not received salaries by looking at transactions from outside and within the country. Information about YONK can be accessed at www.yonk.io
More information:
Source :www.kompasiana.com