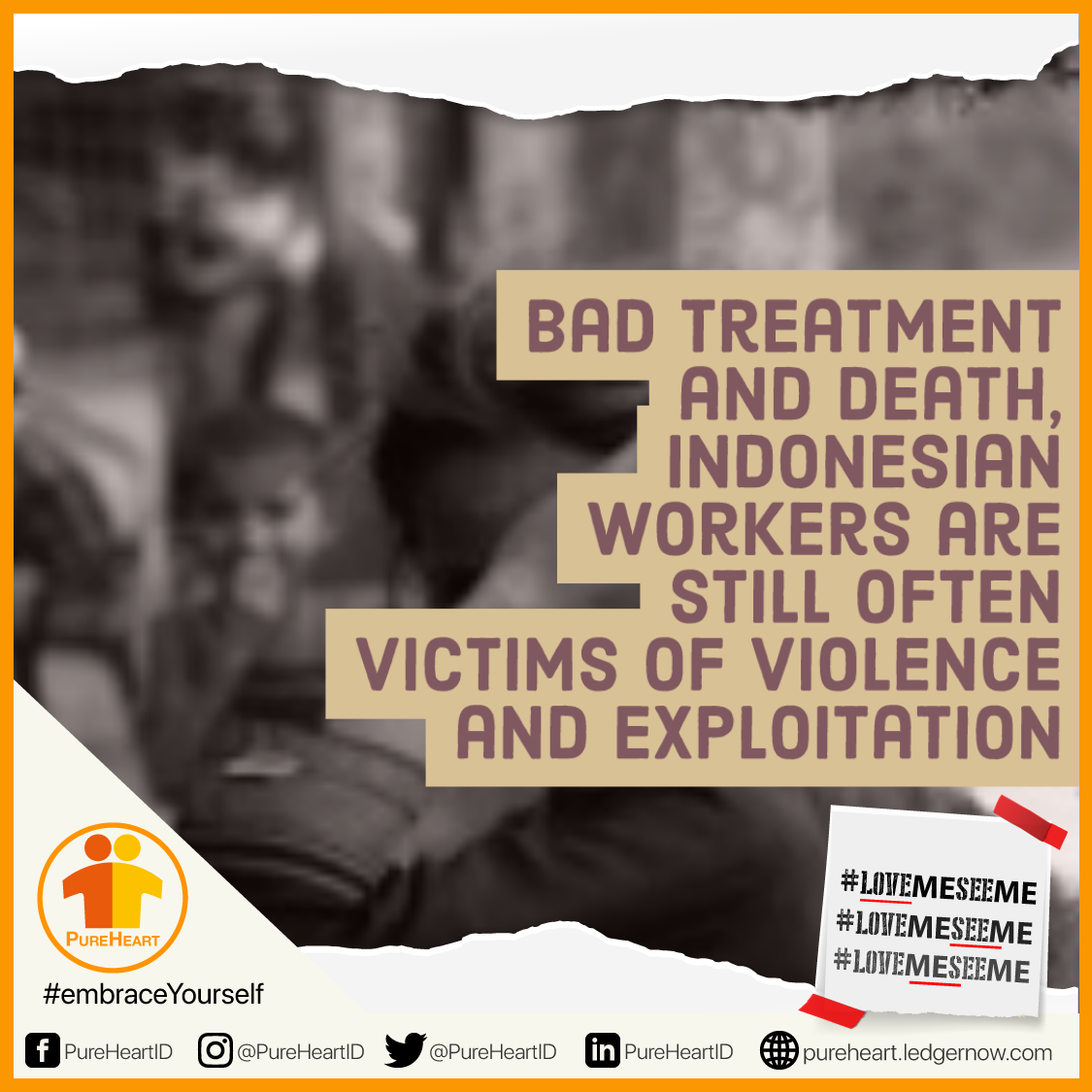 Perlakuan buruk dan berujung maut, Tenaga Kerja Indonesia masih sering menjadi korban kekerasan dan eksploitasi
Adelina Sau, Tenaga Kerja Indonesia asal desa Abi, kecamatan Oenino, Nusa Tenggara Timur tewas di Malaysia. Adelina yang berprofesi sebagai asisten rumah tangga mengalami kurang gizi, terluka parah dan hampir tidak bisa berjalan hingga akhirnya ditemukan tewas. Akan tetapi, pengadilan memvonis bebas majikan yang sudah menyiksanya. Dia adalah perempuan muda yang disuruh bekerja selama dua tahun tanpa upah dan tubuhnya disiksa secara brutal. #LoveMeSeeMe (https://pureheart.ledgernow.com/category/love-me-see-me/)
Putusan pengadilan Malaysia yang membebaskan mantan majikan Adelina dan musibah yang dialami cukup mengejutkan dan menjadikan kematiannya harus dipertanyakan. Pemerintah seharusnya melakukan evaluasi serius mencari akar masalah pelanggaran hak asasi manusia. Perlu diselidiki mengapa pekerja migran Indonesia sering mengalami perlakuan buruk hingga berujung pada maut.
PureHeart mengajak kita semua untuk membuka mata melihat adanya perdagangan manusia dan eksploitasi yang terjadi disekitar kita dan membuka pikiran untuk berperan aktif melawan perdagangan manusia karena mereka pantas untuk menentukan kehidupannya melalui Program #LoveMeSeeMe
Bekerjasama dengan YONK salah satu bisnis yang menciptakan aplikasi manajemen keuangan untuk mengelola arus keuangan lebih aman sehingga, dapat membantu untuk melaporkan para pekerja migran yang belum menerima gaji dengan melihat transaksi dari luar dan dalam negeri. Informasi mengenai YONK dapat dilihati di www.yonk.io
Bad treatment and death, Indonesian workers are still often victims of violence and exploitation
Adelina Sau, an Indonesian worker from Abi village, Oenino sub-district, East Nusa Tenggara, was killed in Malaysia. Adelina, who works as a household assistant, was malnourished, seriously injured and could barely walk until she was finally found dead. However, the court sentenced the employer who had tortured him free. She was a young woman who was told to work for two years without pay and her body was brutally tortured. #LoveMeSeeMe
The Malaysian court ruling that acquitted former employer Adelina and the calamity experienced was quite shocking and made her death questionable. The government should conduct a serious evaluation to find the root cause of human rights violations. It needs to be investigated why Indonesian migrant workers often experience ill-treatment to the point of death.
PureHeart invites all of us to open our eyes to see human trafficking and exploitation happening around us and to open our minds to play an active role against human trafficking because they deserve to determine their lives through the #LoveMeSeeMe community
In collaboration with YONK, one of the businesses that creates financial management applications to manage financial flows more safely so that, it can help to report migrant workers who have not received salaries by looking at transactions from outside and within the country. Information about YONK can be accessed at www.yonk.io
More information:
Source : www.bbc.com