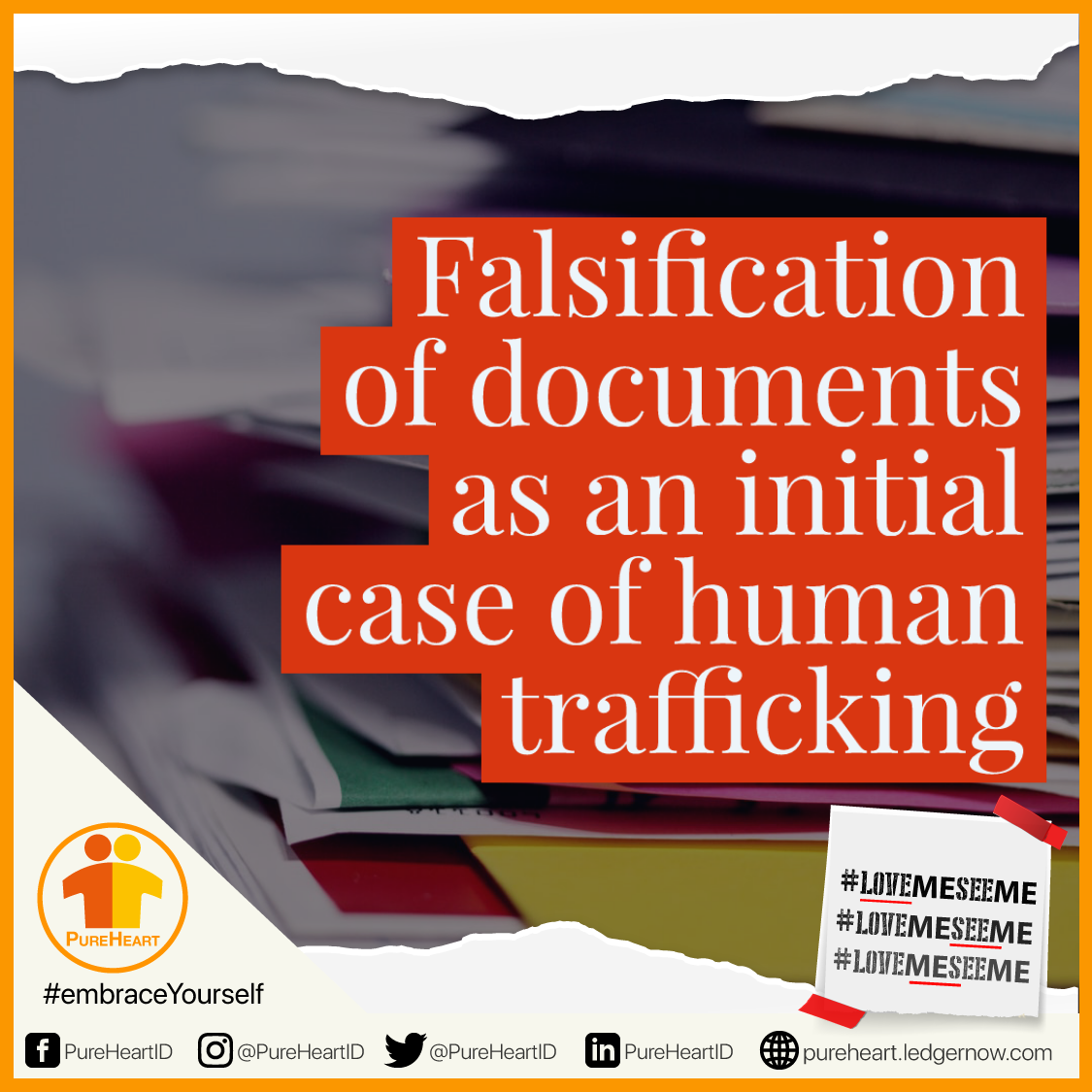 Pemalsuan dokumen sebagai pemicu awal maraknya kasus perdagangan manusia
Kasus perdagangan manusia kerap diawali dengan pemalsuan dokumen yang korbannya perempuan di bawah umur. Hal ini mengingatkan pada kasus pengantin pesanan yang terjadi di Purwakarta. Orang tua korban merasa terkejut karena anaknya sudah berada di Cina dan mengaku sudah menikah. Padahal, anaknya belum memiliki Kartu Tanda Penduduk (KTP) di Purwakarta dan untuk dapat menikah harus memiliki surat pengantar. Hal ini jelas menandakan adanya praktek pemalsuan dokumen dan akibatnya banyak korban pengantin pesanan yang disiksa dan dianiaya tidak dapat kembali ke Indonesia karna dokumen yang palsu. Mereka adalah saudara kita sesama bangsa Indonesia dan wajib dilindungi segala hak mereka #LoveMeSeeMe (https://pureheart.ledgernow.com/category/love-me-see-me/)
Meningkatnya kasus perdagangan manusia menimbulkan pertanyaan bagaimana upaya pemerintah dalam menangani hal ini? Lemahnya sistem pendataan baik pada imigrasi atau dinas kependudukan dan catatan sipil mengakibatkan mudahnya pemalsuan identitas sehingga terdapat sejumlah perempuan dibawah umur yang menjadi korban.
PureHeart mengajak kita semua untuk membuka mata melihat adanya perdagangan manusia dan eksploitasi yang terjadi disekitar kita dan membuka pikiran untuk berperan aktif melawan perdagangan manusia karena mereka pantas untuk menentukan kehidupannya melalui Program #LoveMeSeeMe
Bekerjasama dengan PIE sebagai bisnis yang fokus pada pengembangan data identitas
secara digital (Digital Identity) sehingga dapat digunakan untuk verifikasi dan pencatatan
identitas sehingga tidak dapat dipalsukan dan diharapkan menjadi solusi untuk dapat
mengurangi kasus perdagangan manusia. Informasi mengenai PIE dapat dilihat di
www.pie.co.id
Falsification of documents as an initial case of human trafficking
Cases of human trafficking often begin with falsification of documents where the victims are minors. This is reminiscent of the case of ordered brides that occurred in Purwakarta. The victim's parents were surprised because their child was already in China and claimed to be married. In fact, his child does not yet have a National Identity Card in Purwakarta and to be able to get married must have a letter of introduction. This clearly indicates the practice of falsifying documents and as a result many victims of ordered and tortured brides who were tortured and unable to return to Indonesia because of false documents. They are our brothers and sisters of the Indonesian people and must be protected by all their rights #LoveMeSeeMe (https://pureheart.ledgernow.com/category/love-me-see-me/)
The increase in cases of human trafficking raises the question of how the government's efforts in handling this? The weakness of the data collection system in both immigration or the civil service and civil registration has made it easy to falsify identities so that there are a number of underage women who are victims.
PureHeart invites all of us to open our eyes to see human trafficking and exploitation happening around us and to open our minds to play an active role against human trafficking because they deserve to determine their lives through the #LoveMeSeeMe community.
In collaboration with PIE one of bussines that focuses on developing identity data digitally (Digital Identity) so that it can be used for verification and recording of identity so that cannot be falsified and is expected to be a solution to be able to reduce cases of human trafficking. Information about PIE can be found at www.pie.co.id

More information:
Love Me, See Me!: https://pureheart.ledgernow.com/category/love-me-see-me/
Source : www.regional.kompas.com