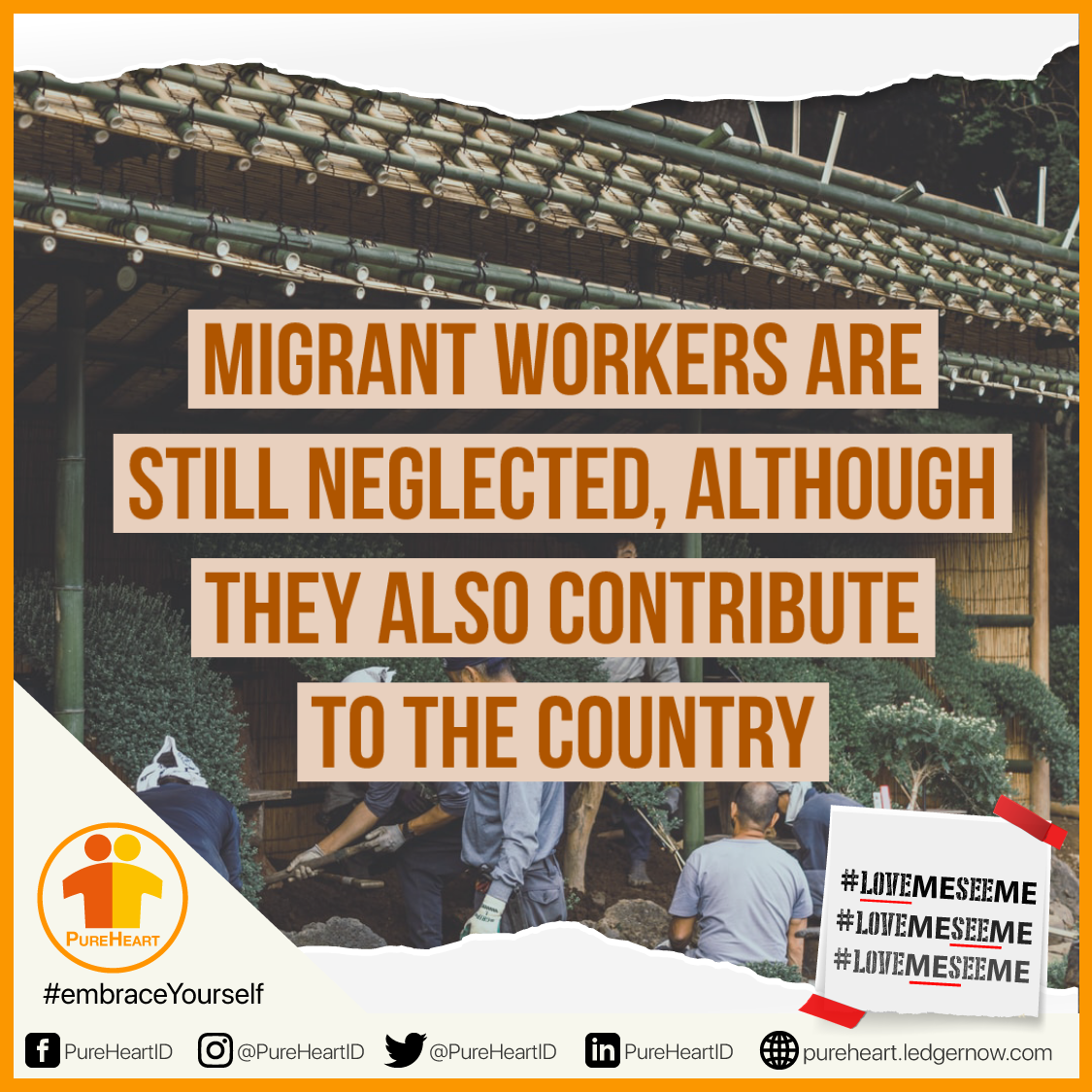 Kaum buruh migran masih sering terabaikan, meski turut memberikan kontribusi
kepada negara Indonesia
Warga Indonesia yang belajar atau bekerja di luar negeri dalam kerangka diaspora diyakini
mampu memberikan sumbangsih bagi negara. Salah satu pekerjaan yang berkontribusi
sebagai penyumbang devisa Negara terbesar adalah menjadi buruh migran. Akan tetapi,
beberapa buruh migran banyak diperdagangkan menjadi budak, upah tidak dibayarkan,
disiksa bahkan banyak yang menghilang. Seperti yang kita lihat, keberadaan kaum buruh
migran sering kali terabaikan, meski turut memberikan kontribusi kepada negara
#LoveMeSeeMe (https://pureheart.ledgernow.com/category/love-me-see-me/)
Hal ini menjadi refleksi bagi diri kita bahwa pemerintah Indonesia harus semakin membuka
diri, mendengarkan tuntutan migran, dan segera mengambil langkah strategis untuk
memperbaiki permasalahan buruh migran Indonesia dengan memastikan sistem yang adil
dan perlindungan yang kuat.
PureHeart mengajak kita untuk membuka mata melihat adanya perdagangan manusia
disekitar kita dan membuka pikiran untuk berperan aktif melawan perdagangan manusia
melalui Program #LoveMeSeeMe
Bekerjasama dengan YONK salah satu bisnis yang mmenciptakan aplikasi manajemen
keuangan untuk mengelola arus keuangan lebih aman sehingga, dapat membantu untuk
melaporkan para pekerja migran yang belum menerima gaji dengan melihat transaksi dari
luar dan dalam negeri. Informasi mengenai YONK dapat dilihati di www.yonk.io
Migrant workers are still neglected, although they also contribute to the country
Indonesian citizens who study or work abroad within the framework of the diaspora are
believed to be able to contribute to the country. One of the jobs that contribute as the
country largest foreign exchange earner is to become a migrant worker. However, some
workers were traded into slaves, wages were not paid, tortured, and many even
disappeared. As we have seen, the existence of migrant workers is often overlooked,
although it also contributes to the country #LoveMeSeeMe (https://pureheart.ledgernow.com/category/love-me-see-me/)
This is a reflection for us that the Indonesian government must increasingly open up, listen
to the demands of migrants, and immediately take strategic steps to fix the problems of
Indonesian migrant workers by ensuring a fair and strong protection system.
PureHeart invites us to open our eyes to see human trafficking
around us and open our minds to play an active role in fighting human trafficking
through the #LoveMeSeeMe community
In collaborate with YONK, one of the businesses that creates financial management
applications to manage financial flows more securely so that it can help to report migrant
workers who have not received salaries by looking at transactions from outside and within
the country. Information about YONK can be accessed at www.yonk.io
More information:
Love Me, See Me!: https://pureheart.ledgernow.com/category/love-me-see-me/