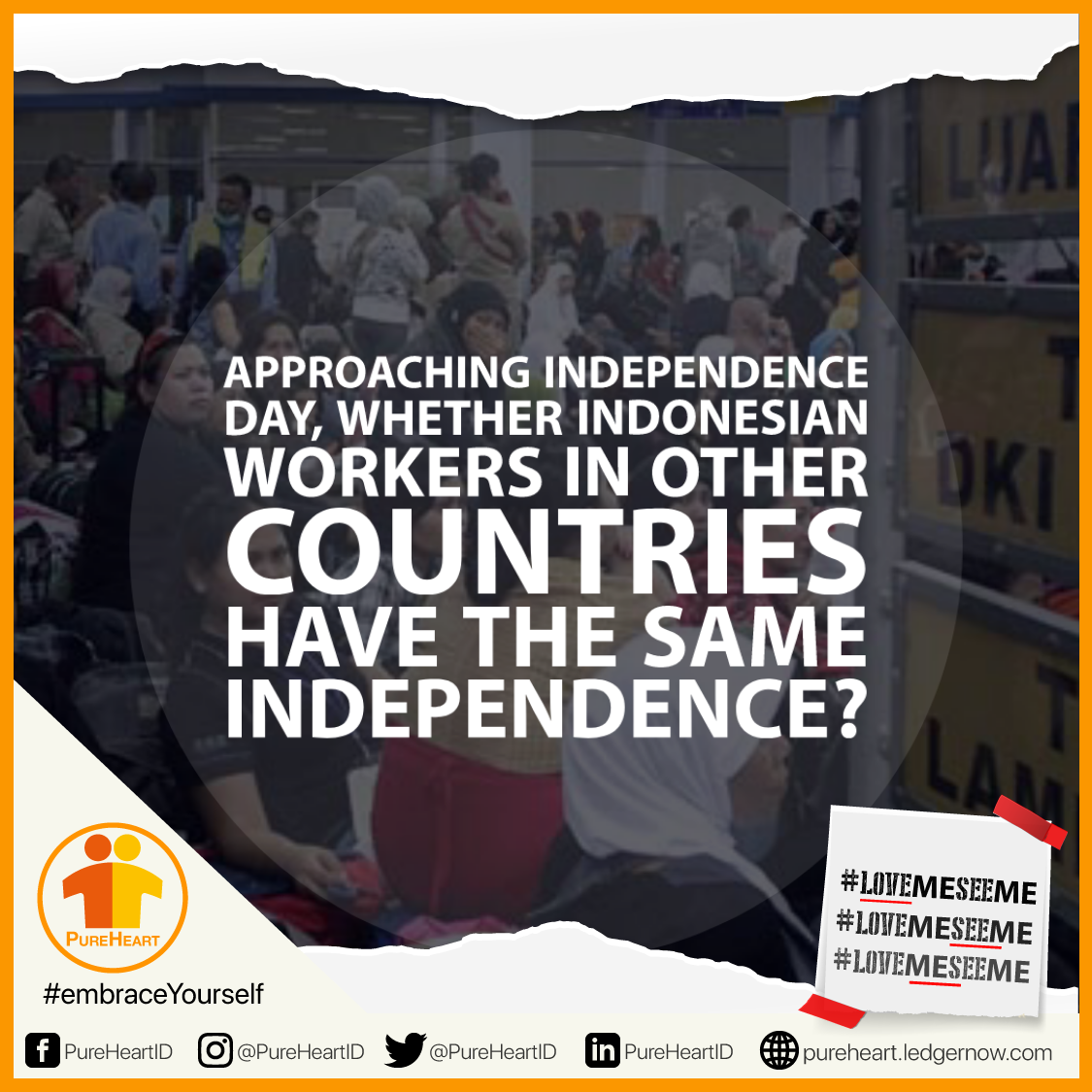 Mendekati hari kemerdekaan, sudahkah tenaga kerja Indonesia di negara lain mempunyai kemerdekaan yang sama?
Banyak perubahan yang terjadi sejak hari kemerdekaan, salah satunya pembangunan fisik
yang akhir-akhir ini semakin gencar dilakukan. Meskipun telah dilakukan pembangunan fisik
secara maksimal, faktanya masih banyak tenaga kerja dikirim ke luar negeri, yang tersebar
dibeberapa negara seperti Korea, Jepang, Hongkong. Bayangkan seharusnya mereka dapat
hidup di negara sendiri, nyatanya mereka bekerja di negara lain #LoveMeSeeMe
(https://pureheart.ledgernow.com/category/love-me-see-me/)
Momen kemerdekaan ini seharusnya menjadi momen penting bagi rakyat Indonesia.
Biasanya, mereka merayakan kemerdekaan dengan upacara dan berbagai perlombaan, lalu
bagaimana dengan para tenaga kerja yang tinggal di negara lain? Apakah mereka juga
mempunyai kemerdekaan yang sama? Pembangunan fisik yang telah pemerintah lakukan
ternyata sama sekali tidak menambah lapangan pekerjaan bagi rakyatnya.
PureHeart mengajak kita untuk membuka mata dan pikiran bahwa mereka layak
mendapatkan kemerdekaan melalui program #LoveMeSeeme
Bekerjasama dengan YONK sebagai salah satu bisnis yg dapat mengatur keuangan secara
cepat dan mudah sehingga seperti memiliki perencana keuangan yg handal. Informasi
mengenai YONK dapat dilihat di https://www.yonk.io
Approaching independence day, whether Indonesian workers in other countries
have the same independence?
Many changes have taken place since independence day, one of which is the physical
development that has been intensified lately. Although physical development has been
carried out to the maximum, the fact is that there are still many workers sent abroad, spread
in several countries such as Korea, Japan, Hong Kong. Imagine they should be able to live
in their own country, in fact they work in other countries #LoveMeSeeMe
(https://pureheart.ledgernow.com/category/love-me-see-me/)
This moment of independence should be the important moment for the people of Indonesia.
Usually, they celebrate independence with ceremonies and competitions, so what about the
workers who live in other countries? Do they also have the same independence? The
physical development that the government has done has in fact not added any jobs to its
people.
PureHeart invites us to open our eyes and minds that they deserve independence through
the #LoveMeSeeme community
In collaboration with YONK  one of the businesses that can manage finances quickly and
easily so that it looks like having a reliable financial planner. Information about YONK can be
seen at: https://www.yonk.io
More information:
Love Me, See Me!: https://pureheart.ledgernow.com/category/love-me-see-me/
Source : https://www.kompasiana.com