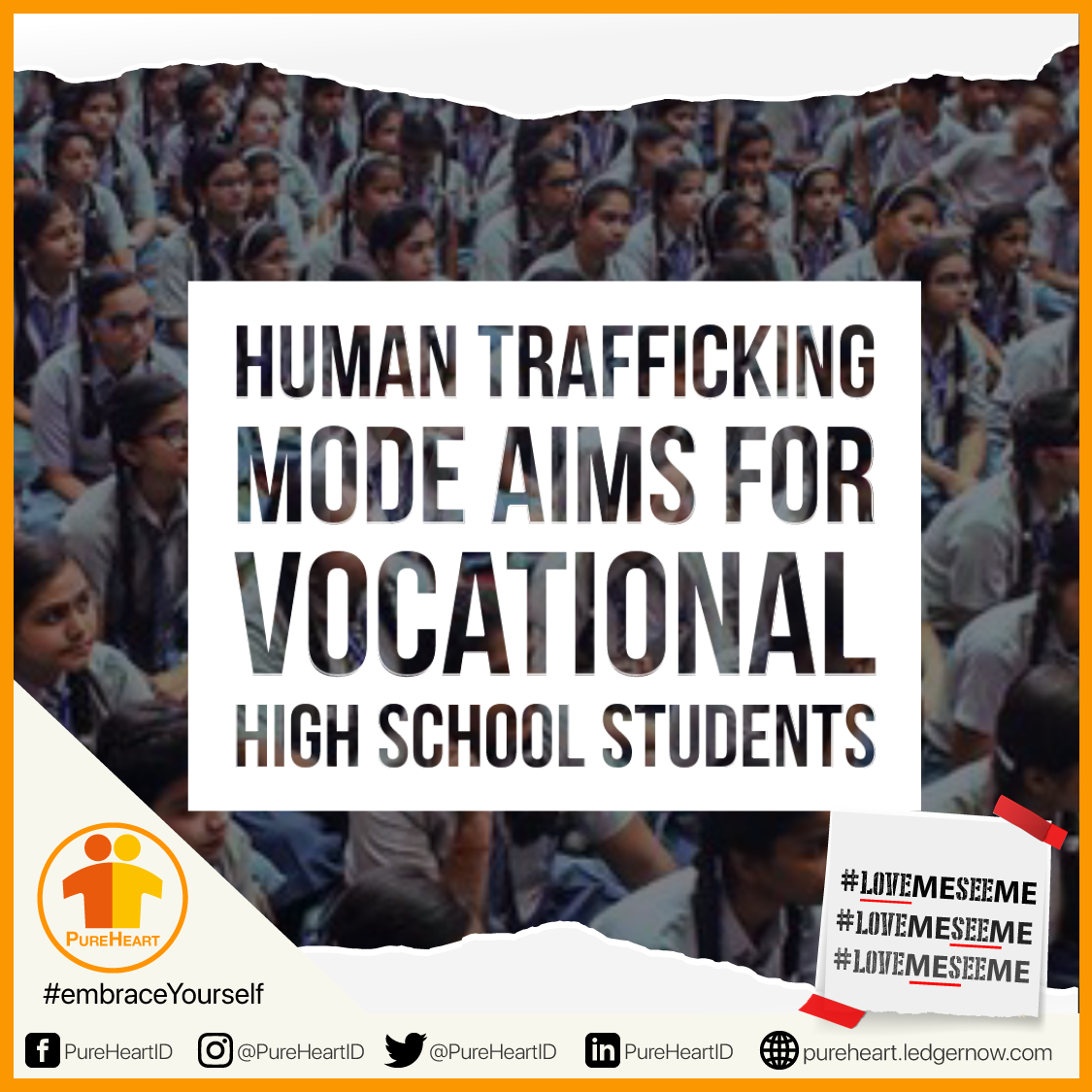 Modus perdagangan manusia incar siswa sekolah menengah kejuruan
Kasus perdagangan manusia banyak terjadi di Indonesia, salah satunya di kota Malang.
Pada tahun 2018 hingga awal tahun 2019 terdapat 26 kasus perdagangan anak yang
menargetkan siswa tingkat sekolah menengah kejuruan. Para pelaku datang ke sekolah
seolah menawari pekerjaan ternyata dimanfaatkan untuk menjadi kurir narkoba atau dikirim
menjadi TKI ilegal dengan pemalsuan dokumen. Bayangkan anak-anak yg memiliki mimpi
dan akan membuka gerbang mimpinya harus terhenti harapannya karena perdagangan
manusia #LoveMeSeeMe (https://pureheart.ledgernow.com/category/love-me-see-me/)
Lalu bagaimana peran pemerintah yang harusnya ikut melindungi hak anak dari kasus
perdagangan manusia? apakah sudah dilakukan sosialisasi pada semua elemen terutama
sekolah agar anak-anak tidak mudah percaya dengan modus tersebut?
PureHeart mengajak kita untuk membuka mata dan pikiran bahwa mereka patut
mendapatkan haknya untuk menggapai mimpinya melalui Program LoveMe, SeeMe!
Bekerjasama dengan PIE sebagai salah satu bisnis yang melindungi data pribadi kita agar
selalu aman dari pembajakan dan pencurian data, berkomitmen untuk membantu dalam
perlawanan melawan perdagangan manusia. Informasi mengenai PIE dapat dilihat di:
https://www.pie.co.id
Human trafficking mode aims for vocational high school students
Many cases of human trafficking occur in Indonesia, one of which is in the city of Malang. In
2018 until the beginning of 2019 there were 26 cases of child trafficking targeting vocational
high school students. The perpetrators came to school as if offering jobs turned out to be
used to become drug couriers or sent to be illegal migrant workers by falsifying documents.
Imagine children who have dreams and will open the gates of their dreams must be stopped
hope because of human trafficking #LoveMeSeeMe (https://pureheart.ledgernow.com/category/love-me-see-me/)
Then how is the role of government that should help protect the rights of children from
trafficking cases? has socialization been carried out on all elements, especially schools so
that children do not easily believe in this mode?
PureHeart invites us to open our eyes and minds that they deserve their right to reach their
dreams through the LoveMe, SeeMe community
In collaboration with PIE one of the business that protects our personal data in order
always safe from piracy and data theft, is committed to helping in the fight against human
trafficking. For more information, visit
https://www.pie.co.id

More information:
Love Me, See Me!:
https://pureheart.ledgernow.com/category/love-me-see-me/
Source : rri.co.id