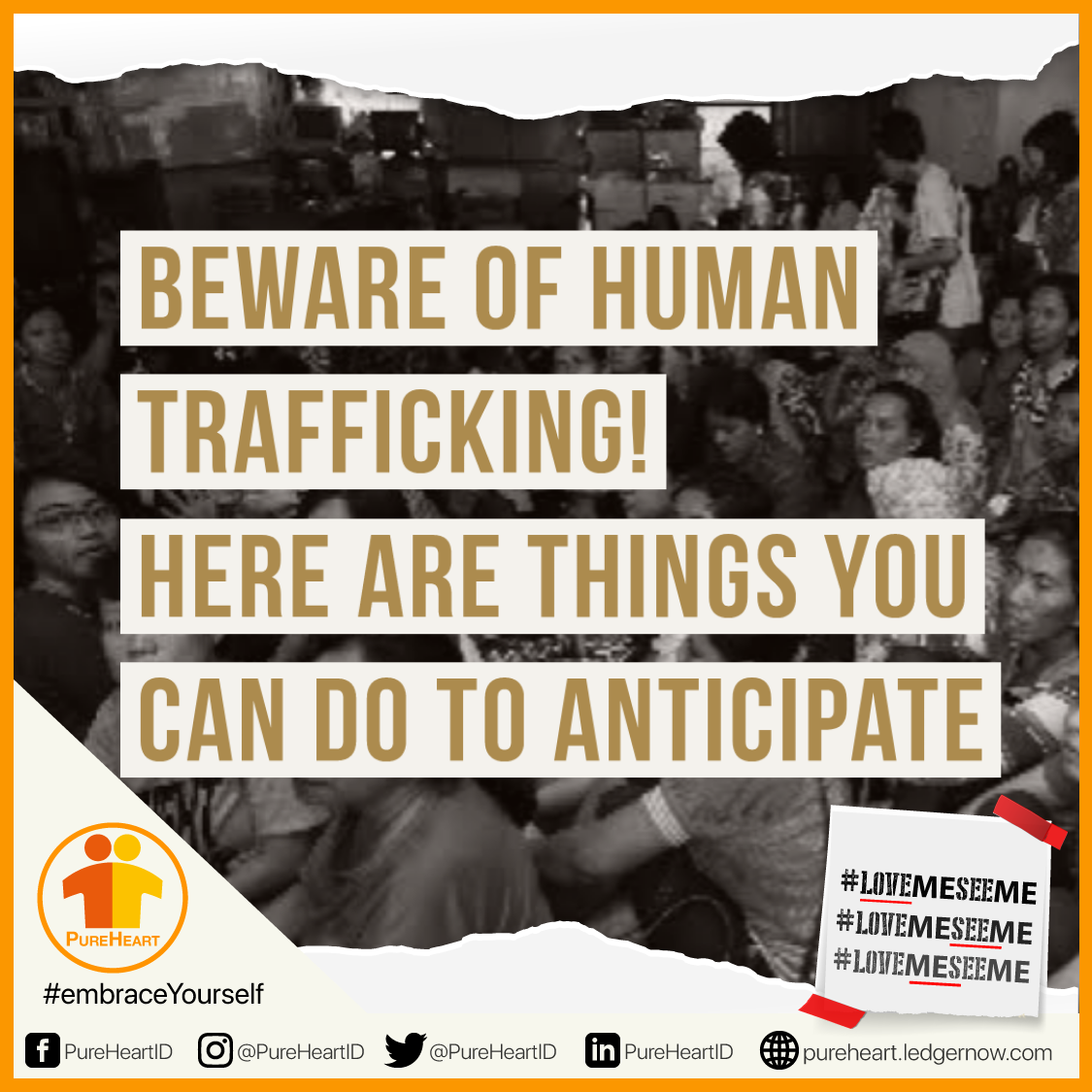 Waspada perdagangan manusia, berikut hal yg dapat dilakukan untuk mengantisipasinya
Perdagangan manusia saat ini perlu mendapatkan perhatian serius. UNICEF melaporkan sebanyak 100.000 perempuan dan anak-anak di Indonesia diperdagangkan setiap tahun dan Indonesia mendapatkan posisi kedua sebagai negara dengan pelaku perdagangan manusia terbanyak di dunia. Coba kita lihat sudah berapa banyak korban yang kehilangan hak-hak mereka sebagai manusia?
Lalu, apa yang dapat dilakukan untuk menangani dan terhindar dari perdagangan manusia? Pertama, lindungi dirimu dan selalu waspada dengan keadaan sekitar, jangan menerima tawaran dari orang asing. Ikut dalam aktivitas sosial untuk mengkampanyekan hak korban perdagangan manusia.
PureHeart mengajak kita untuk membuka mata dan pikiran bahwa mereka patut dibela dan layak hidup di masyarakat melalui Program LoveMe, SeeMe!
Bekerjasama dengan PIE sebagai salah satu bisnis yang melindungi data pribadi kita agar selalu aman dari pembajakan dan pencurian data, berkomitmen untuk membantu dalam perlawanan melawan perdagangan manusia. Informasi mengenai PIE dapat dilihat di: https://www.pie.co.id
Beware of human trafficking, here are things you can do to antisipate
Human trafficking now needs serious attention. UNICEF reports that as many as 100,000 women and children in Indonesia are trafficked every year and Indonesia ranks second as the country with the most traffickers in the world. Let's see how many victims have lost their rights as human beings #LovemeSeeme (https://pureheart.ledgernow.com/category/love-me-see-me/)
Then, what can be done to deal with and avoid human trafficking? First, protect yourself and always be aware of your surroundings, don't accept offers from strangers. Participate in social activities to campaign for the rights of victims of human trafficking.
Pureheart invites us to open our eyes and minds that they are worth defending and worth living in the #LovemeSeeme community
In collaboration with PIE, one of the businesses that protects our personal data to be safe from piracy and data theft, is committed to helping in the fight against human trafficking. For more information, visit https://www.pie.co.id
More Information