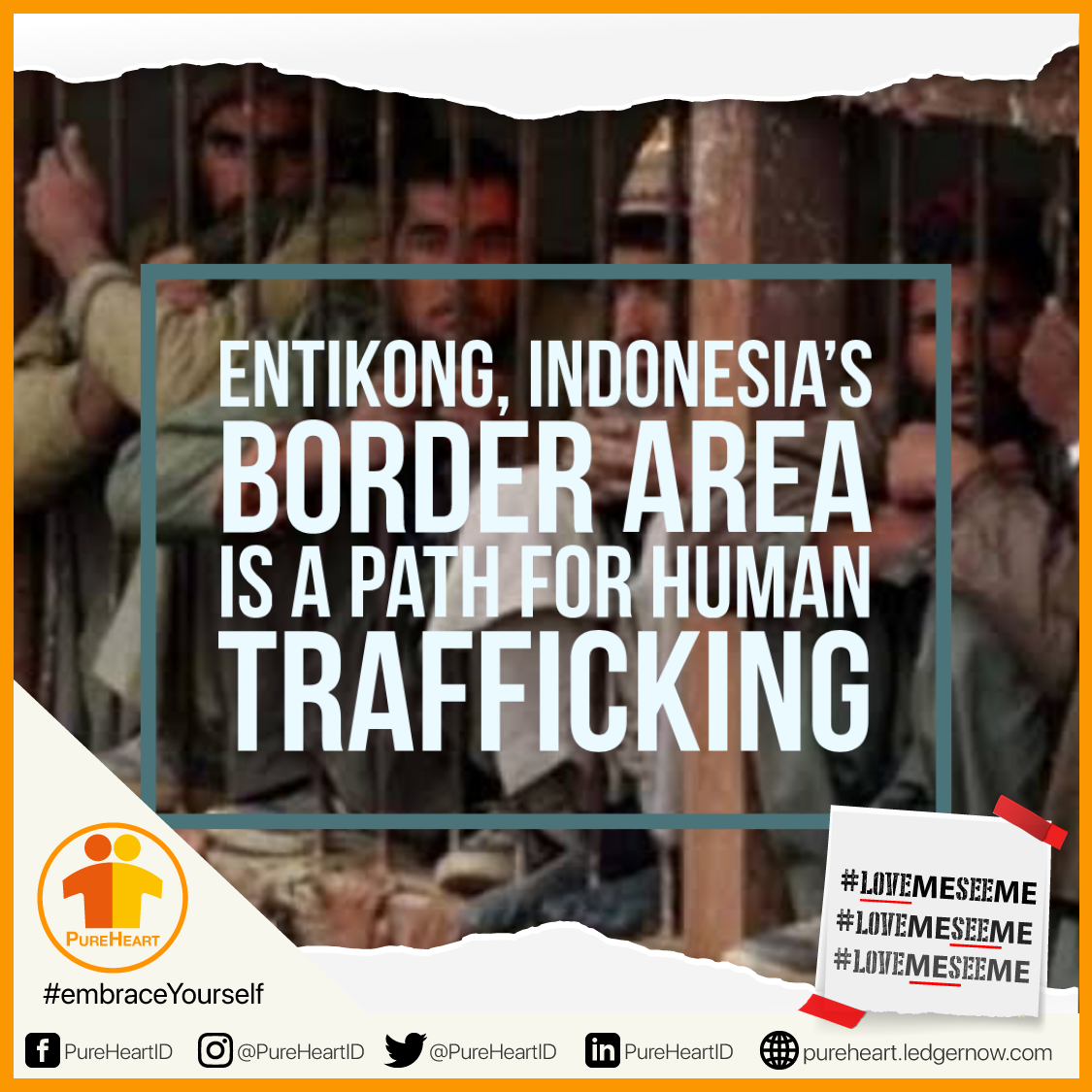 Entikong, daerah perbatasan Indonesia yang menjadi jalur perdagangan manusia
Sebuah daerah bernama Entikong, Kalimantan Barat yang berbatasan langsung dengan Sarawak, Malaysia Timur dianggap sebagai jalur untuk menjalankan aksi penyelundupan dan perdagangan manusia dengan modus pengiriman Tenaga Kerja secara tidak legal. Korban tergiur dengan upah yang besar dan kehidupan yg terjamin, Nyatanya banyak dari mereka tidak diupah bahkan sering disiksa Perlu disadari, mereka dari kampung halaman berbekal impian penuh bekerja untuk bisa bebas dari kemiskinan namun ternyata haknya tidak dipenuhi. #LoveMeSeeMe (https://pureheart.ledgernow.com/category/love-me-see-me/)
Tak terurusnya kawasan perbatasan tersebut cukup ironis. Aktivitas kejahatan sering terjadi tanpa harus sembunyi. Dalam berbagai kasus perdagangan manusia, korban diselundupkan melalui jalur resmi di Entikong. Hal ini menandakan belum adanya keseriusan dari pemerintah dalam penanganan kasus perdagangan manusia dan kurangnya perhatian pemerintah terhadap keamanan di daerah perbatasan.
PureHeart mengajak kita untuk membuka mata melihat adanya perdagangan manusia disekitar kita dan membuka pikiran untuk berperan aktif melawan perdagangan manusia melalui Program #LoveMeSeeMe
Bekerjasama dengan YONK salah satu bisnis yang menciptakan aplikasi manajemen keuangan untuk mengelola arus keuangan lebih aman sehingga, dapat membantu untuk melaporkan para pekerja migran yang belum menerima gaji dengan melihat transaksi dari luar dan dalam negeri. Informasi mengenai YONK dapat dilihati di www.yonk.io
Entikong, Indonesia's border area is a path for human trafficking
An area called Entikong, West Kalimantan which borders directly with Sarawak, East
Malaysia is considered a pathway to carry out smuggling and trafficking in persons with an illegal mode of sending labor. Victims are tempted by large wages and guaranteed lives. In fact many of them are not paid or even tortured. It is important to realize that they are from their hometowns with full dreams of working to be free from poverty but their rights are not fulfilled. #LoveMeSeeMe (https://pureheart.ledgernow.com/category/love-me-see-me/)
The neglect of these border areas is quite ironic. Crime activities often occur without having
to hide. In various cases of human trafficking, victims are smuggled through official channels
in Entikong. This indicates the lack of seriousness from the government in handling human
trafficking cases and the lack of government attention to security in border areas.
PureHeart invites us to open our eyes to see human trafficking around us and open our minds to play an active role in fighting human trafficking through the #LoveMeSeeMe community.
In collaboration with YONK, one of the business that creates financial management applications to manage financial flows more safely so that, it can help to report migrant workers who have not received salaries by looking at transactions from outside and within the country. Information about YONK can be accessed at www.yonk.io
More information:
Love Me, See Me!: https://pureheart.ledgernow.com/category/love-me-see-me/
Source : http://big.go.id