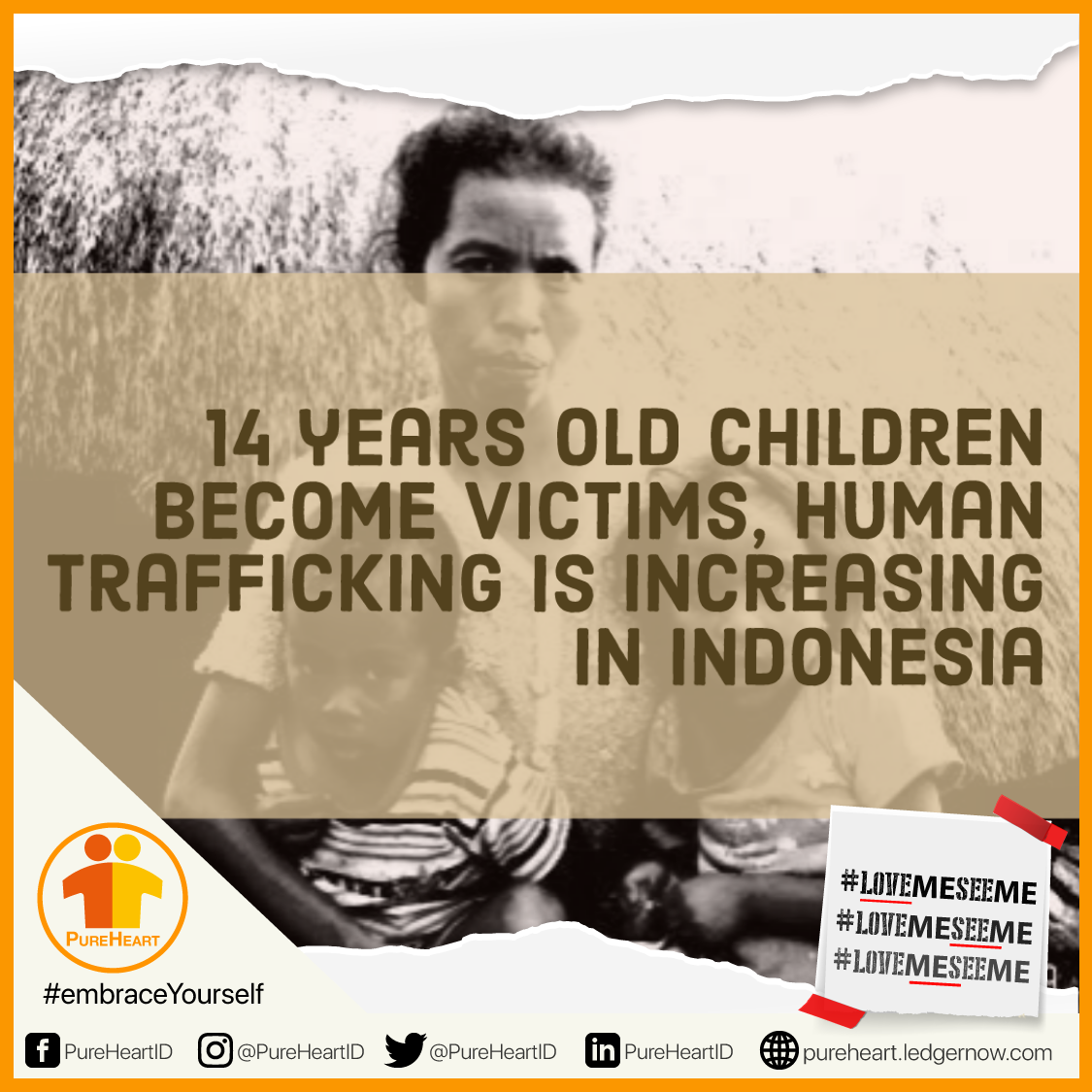 Anak umur 14 tahun menjadi korban, perdagangan manusia meningkat di Indonesia
Sejumlah kelompok hak asasi manusia mengatakan, sindikat perdagangan manusia merajalela di Provinsi Nusa Tenggara Timur. Gadis berumur 14 tahun asal Kabupaten Kupang, Nusa Tenggara Timur menjadi korban perdagangan manusia. Selama empat bulan, dia bekerja selama 18 jam per hari tanpa digaji. Hal ini hanyalah satu dari drama perdagangan manusia yang terbongkar, dan masih banyak kasus lainnya yang tidak diketahui dan kita tidak sadari #LoveMeSeeMe (https://pureheart.ledgernow.com/category/love-me-see-me/)
Penipuan petugas lapangan, pemalsuan dokumen, penyanderaan dokumen diri, dan penderitaan di tangan majikan. Pola ini berulang hampir pada semua pekerja migran Indonesia. Pemerintah seharusnya melakukan evaluasi serius mencari akar masalah pelanggaran hak asasi manusia. Perlu dicek mengapa proses perekrutan melibatkan informasi yang palsu. Perlu dicari tahu mengapa banyak dokumen asli tapi palsu bisa dikeluarkan.
PureHeart mengajak kita semua untuk membuka mata melihat adanya perdagangan manusia dan eksploitasi yang terjadi disekitar kita dan membuka pikiran untuk berperan aktif melawan perdagangan manusia karena mereka pantas untuk menentukan kehidupannya melalui Program #LoveMeSeeMe
Bekerjasama dengan LedgerNow sebagai salah satu bisnis yg menciptakan aplikasi enterprise yg fokus pada digital identity dan business automation menggunakan teknologi blokchain agar menciptakan registrasi dan validasi yang aman untuk pekerja sehingga tidak mudah dipalsukan dan diharapkan menjadi solusi untuk dapat mengurangi kasus perdagangan manusia. Informasi mengenai LedgerNow dapat dilihat di: www.ledgernow.com/
14 years old children become victims, human trafficking is increasing in Indonesia
Human rights groups say human trafficking syndicates are rampant in East Nusa Tenggara Province. A 14-year-old girl from Kupang Regency, East Nusa Tenggara became a victim of human trafficking. For four months, he worked for 18 hours per day without being paid. This is just one of the unfolding human trafficking dramas, and many other cases are unknown and we are not aware of #LoveMeSeeMe (https://pureheart.ledgernow.com/category/love-me-see-me/)
Fraud of field officers, falsification of documents, hostage taking of documents, and suffering at the hands of employers. This pattern is repeated almost in all Indonesian migrant workers. The government should conduct a serious evaluation to find the root cause of human rights violations. It needs to be checked why the hiring process involves false information. It is necessary to find out why many original but fake documents can be issued.
PureHeart invites all of us to open our eyes to see human trafficking and exploitation happening around us and to open our minds to play an active role in fighting human trafficking because they deserve to determine their lives through the #LoveMeSeeMe community
In collaboration with LedgerNow one of the businesses that creates applications enterprise that focuses on digital identity and business automation using technology blokchain to create registration and validation that is safe for workers and contracts so that it is not easily falsified and is expected to be a solution to be able to reduce cases of human trafficking. Information about LedgerNow can be seen at: www.ledgernow.com/
More information: