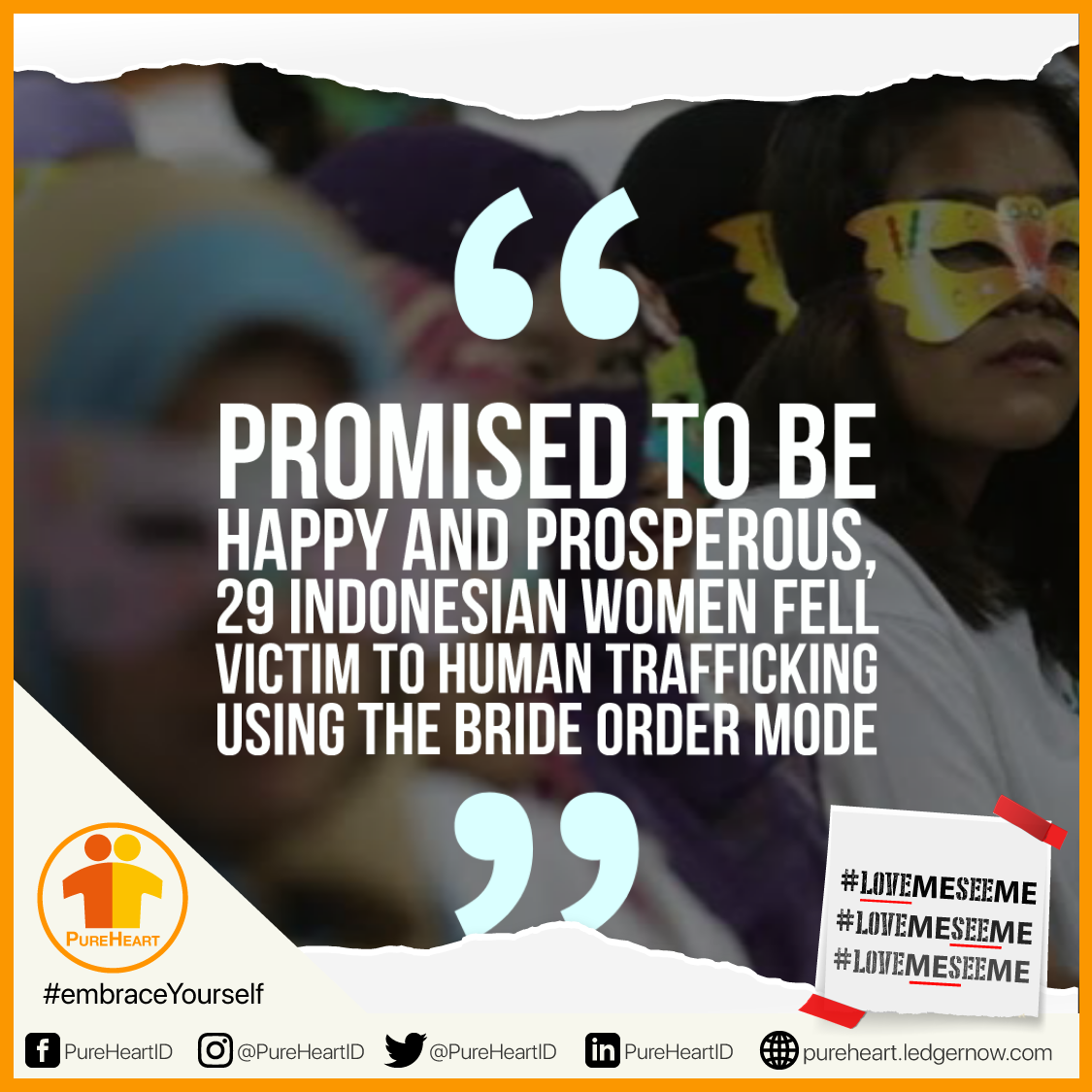 Dijanjikan bahagia dan sejahtera, 29 perempuan Indonesia menjadi korban perdagangan manusia dengan modus pengantin pesanan
Kasus perdagangan orang kembali terjadi, Belakangan ini korbannya adalah 29 perempuan dengan modus perkawinan (pengantin pesanan). Salah satu penyebab kian maraknya perdagangan manusia adalah keuntungan yang diperoleh pelakunya sangatlah besar, mencapai 32 miliar dollar AS setiap tahunnya. Dalam melakukan kejahatan tersebut, pelaku melakukan pemalsuan terhadap dokumen biodata dan surat-surat yg diperlukan. Seperti yang kita lihat, setelah menikah bukan kebahagian dan kesejahteraan yang diperoleh, tetapi perlakuan kekerasan, perbudakan seks, dan dipaksa bekerja dalam jangka waktu panjang tanpa upah #LoveMeSeeMe (https://pureheart.ledgernow.com/category/love-me-see-me/)
Perdagangan manusia merupakan kejahatan kemanusiaan yang tidak dapat ditolerir. karena
terlanggarnya hak-hak asasi manusia. Selama ini, pemerintah pusat dan daerah masih berfokus pada kuratif atau penanganan, bukan preventif atau pencegahan. Negara juga tidak mampu menyelesaikan permasalahan ini dengan tuntas sampai ke akarnya diitambah lagi, alasan ekonomi yang menjadi alasan utama.
PureHeart mengajak kita semua untuk membuka mata melihat adanya perdagangan manusia dan eksploitasi yang terjadi disekitar kita dan membuka pikiran untuk berperan aktif melawan perdagangan manusia karena mereka pantas untuk menentukan kehidupannya melalui Program #LoveMeSeeMe
Bekerjasama dengan LedgerNow sebagai salah satu bisnis yg menciptakan aplikasi enterprise yg fokus pada digital identity dan business automation menggunakan teknologi blokchain agar menciptakan registrasi dan validasi yang aman untuk pekerja sehingga tidak mudah dipalsukan dan diharapkan menjadi solusi untuk dapat mengurangi kasus perdagangan manusia. Informasi mengenai LedgerNow dapat dilihat di www.ledgernow.com/
Promised to be happy and prosperous, 29 Indonesian women fell victim to human trafficking using the bride order mode
The case of trafficking occurred again, Lately the victims were 29 women with the mode of marriage (mail order brides). One of the causes of the increasingly rampant human trafficking is the profit gained by the culprit is very large, reaching 32 billion US dollars every year. In committing these crimes, the perpetrators falsified their biodata documents and required documents. As we have seen, after marriage is not happiness and prosperity, but the treatment of violence, sex slavery, and forced to work long-term without pay #LoveMeSeeMe (https://pureheart.ledgernow.com/category/love-me-see-me/)
Human trafficking is a crime that cannot be tolerated, because of violations of human rights.
So far, the central and regional governments are still focused on curative or handling, not
preventive or preventive. The state is also unable to solve this problem completely until its
roots are added up again, the economic reasons being the main reason.
PureHeart invites all of us to open our eyes to see human trafficking and exploitation
happening around us and open our minds to play an active role in fighting human trafficking
because they deserve to determine their lives through the #LoveMeSeeMe community.
In collaboration with LedgerNow one of the businesses that creates applications
enterprise that focuses on digital identity and business automation using technology
blokchain to create registration and validation that is safe for workers so that it is not easily
falsified and is expected to be a solution to be able to reduce cases of human trafficking.
Information about LedgerNow can be seen at: www.ledgernow.com

More information:
Love Me, See Me!: https://pureheart.ledgernow.com/category/love-me-see-me/
Source : www.mediakita.id