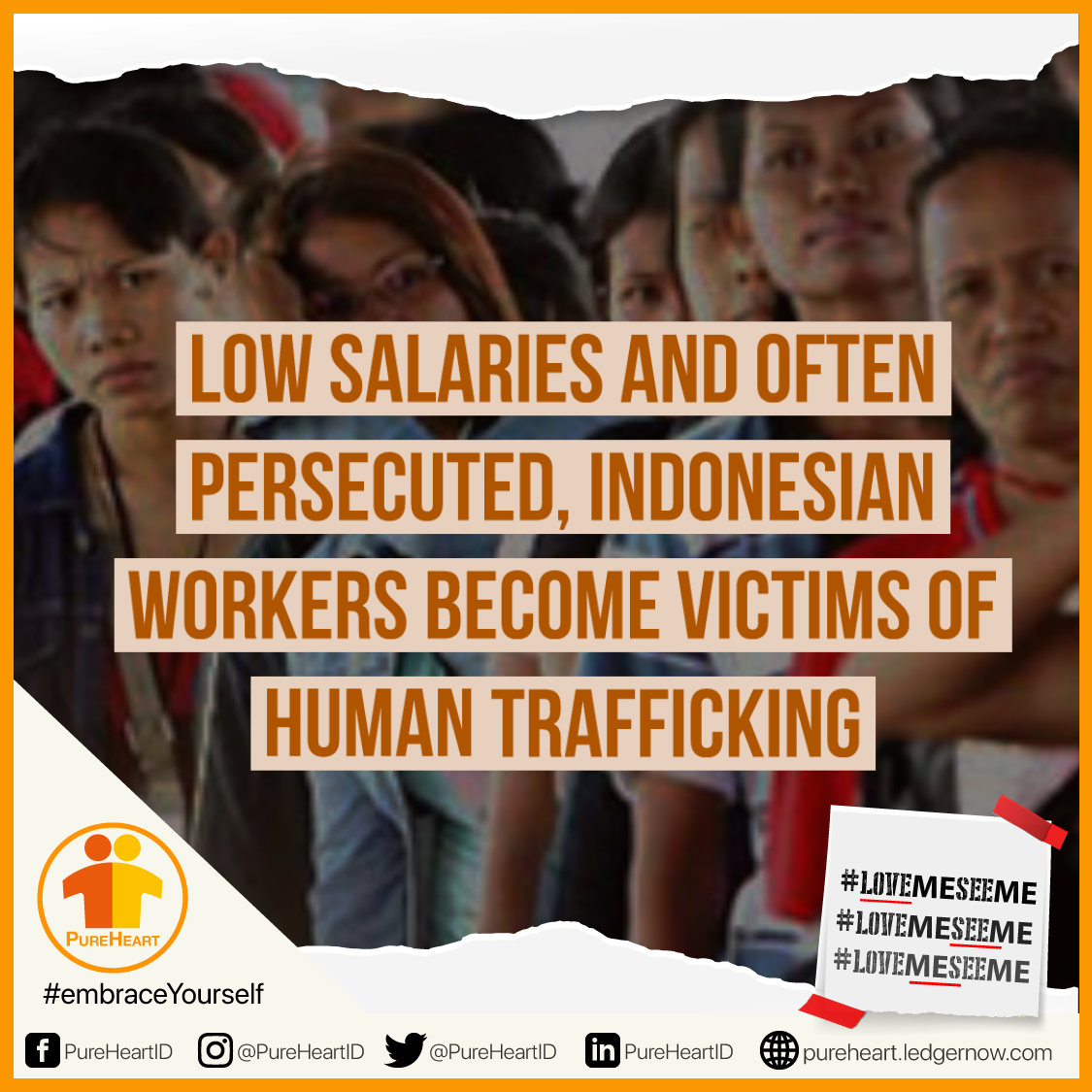 Gaji yang rendah dan sering dianiaya, tenaga kerja indonesia menjadi korban perdagangan manusia
Polisi berhasil mengungkap kasus perdagangan manusia dengan modus sebagai tenaga kerja Indonesia (TKI) di Arab Saudi, Mesir, Turki dan Jakarta. Keempat korban tersebut diketahui diperdaya oleh tujuh orang pelaku dengan modus yang sama yaitu, dijanjikan pekerjaan dengan gaji yang tinggi. Kenyataannya, para korban dijual ke luar negeri secara ilegal dengan gaji lebih rendah dari yang dijanjikan. Tak jarang, banyak yang mengalami penganiayaan dan hal ini sering terabaikan oleh kita semua #LoveMeSeeMe (https://pureheart.ledgernow.com/category/love-me-see-me/)
Selama ini, pemerintah telah menghukum ratusan pelaku dan menyelamatkan ribuan warga Indonesia yang menjadi korban di luar negeri. Apakah ini membuat pelaku kapok? Ternyata tidak. Masalahnya, jumlah aparat keamanan di bidang pengawasan masih kurang memadai dan dukungan serta keterlibatan masyarakat sebagai pengawas juga masih kurang.
PureHeart mengajak kita untuk membuka mata melihat adanya perdagangan manusia disekitar kita dan membuka pikiran untuk berperan aktif melawan perdagangan manusia melalui Program #LoveMeSeeMe
Bekerjasama dengan LedgerNow sebagai salah satu bisnis yg menciptakan aplikasi enterprise yg fokus pada digital identity dan business automation menggunakan teknologi blokchain agar menciptakan registrasi yang aman untuk pekerja dan kontrak mereka. Informasi mengenai LedgerNow dapat dilihat di: www.ledgernow.com/
Low salaries and often persecuted, Indonesian workers become victims of human trafficking
The police succeeded in uncovering cases of human trafficking in the mode of Indonesian labor (TKI) in Saudi Arabia, Egypt, Turkey and Jakarta. The four victims were found to be deceived by seven perpetrators with the same mode, namely, promised high-paying jobs. In fact, victims were illegally trafficked abroad at lower salaries than promised. Quite often, many experience persecution and this is often overlooked by all of us #LoveMeSeeMe (https://pureheart.ledgernow.com/category/love-me-see-me/) 
So far, the government has punished hundreds of perpetrators and saved thousands of Indonesian citizens who were victims abroad. Does this make the perpetrators give up? Apparently not. The problem is that the number of security forces in the field of supervision is still inadequate and the support and involvement of the community as supervisors is also insufficient.
PureHeart invites us to open our eyes to see human trafficking around us and open our minds to play an active role in fighting human trafficking through the #LoveMeSeeMe communtiy
In collaboration with LedgerNow  one of the businesses that creates applications enterprise that focuses on digital identity and business automation using technology blokchain to create secure registration for workers and their contracts. Information about LedgerNow can be seen at: www.ledgernow.com/ 
More information: