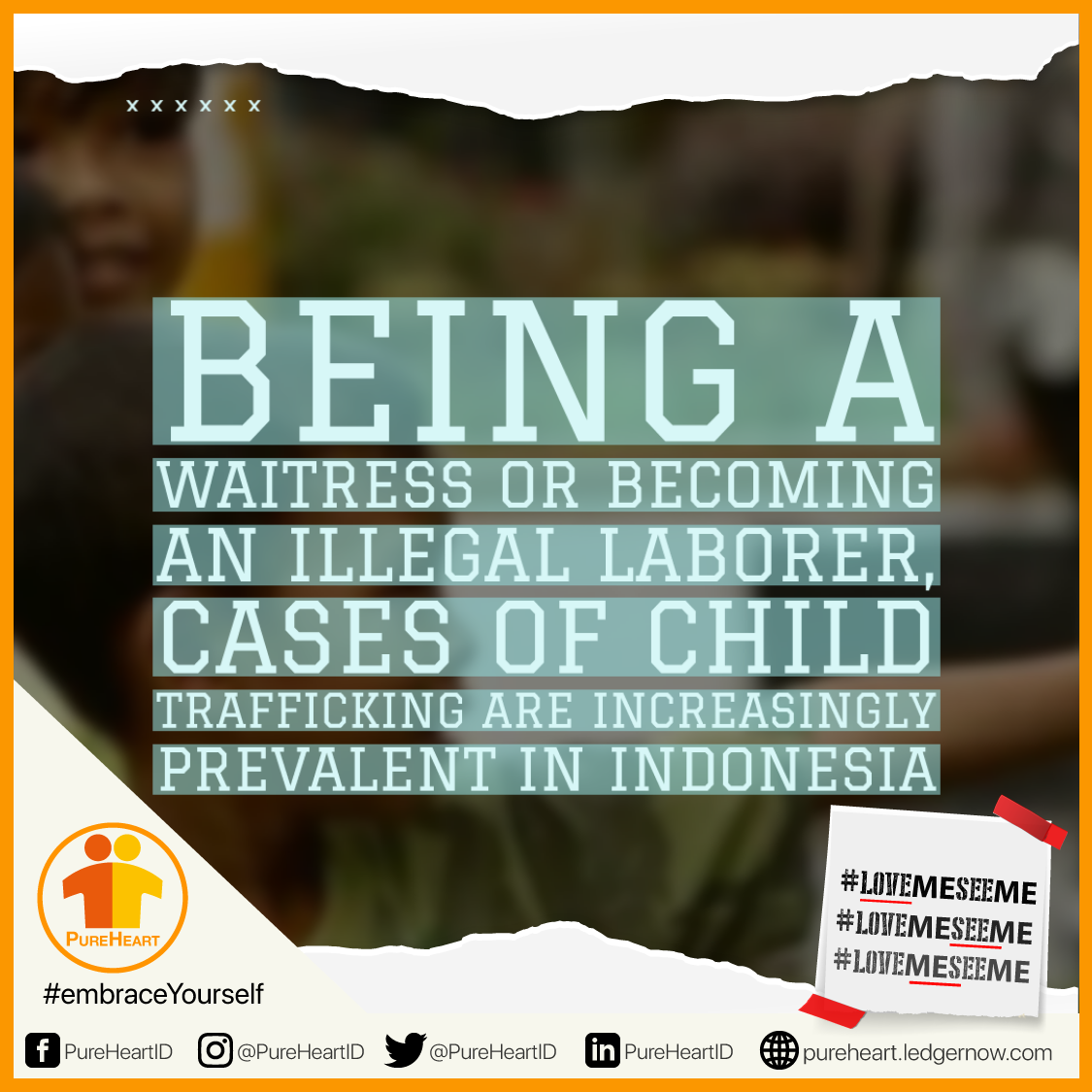 Menjadi pelayan kafe hingga menjadi tenaga kerja ilegal, kasus perdagangan anak makin marak terjadi di Indonesia
Masalah perdagangan manusia masih menjadi masalah besar terutama bagi anak-anak.
Lembaga Perlindungan Anak (LPA) Kota Malang mencatat jumlah kasus percobaan
perdagangan anak di awal 2019 ini mencapai 7 kasus. Sementara tahun lalu, angkanya
mencapai 19 kasus. Modus yang dilakukan adalah mempekerjakan anak-anak di kafe
dengan upah tidak layak, dijadikan kurir narkotika dan juga ada yang dijanjikan pekerjaan di
pertokoan atau mall. Kenyataannya, dikirim menjadi tenaga kerja ilegal dengan pemalsuan
dokumen. Sasarannya adalah anak lulusan sekolah menengah yang memiliki mimpi dan
akan membuka gerbang mimpinya harus terhenti harapannya karena perdagangan manusia
#LoveMeSeeMe (https://pureheart.ledgernow.com/category/love-me-see-me/)
Saat ini, undang-undang untuk melindungi hak-hak anak yang dibuat oleh pemerintah
penerapannya terbukti banyak hambatan karena berbenturan dengan sistem sosial dan akar
budaya Indonesia yang sebagian besar masih mendiskriminasikan anak-anak dan wanita.
hal ini mengakibatkan semakin bertambahnya jumlah perdagangan manusia dari tahun ke
tahun.
PureHeart mengajak kita semua untuk membuka mata melihat adanya perdagangan anak
dan eksploitasi yang terjadi disekitar kita dan membuka pikiran untuk berperan aktif
melawan perdagangan anak karena mereka pantas untuk mendapatkan haknya melalui
Program #LoveMeSeeMe
Bekerjasama dengan PIE sebagai bisnis yang fokus pada pengembangan data identitas
secara digital (Digital Identity) sehingga dapat digunakan untuk verifikasi dan pencatatan
identitas sehingga tidak dapat dipalsukan dan diharapkan menjadi solusi untuk dapat
mengurangi kasus perdagangan manusia. Informasi mengenai PIE dapat dilihat di
www.pie.co.id
Being a cafe waitress or becoming an illegal laborer, cases of child trafficking are increasingly prevalent in Indonesia
The problem of human trafficking is still a big problem, especially for children. Malang City
Child Protection Institute (LPA) recorded the number of cases of child trafficking trials in
early 2019 reaching 7 cases. While last year, the figure reached 19 cases. The method used
is to employ children in cafes with improper wages, be used as narcotics couriers and there
are also those who are promised work in shops or malls. In fact, it was sent into illegal labor
with document forgery. The target is a high school graduate child who has a dream and will
open the gates of his dream must be stopped hope because human trafficking
#LoveMeSeeMe (https://pureheart.ledgernow.com/category/love-me-see-me/)
At present, the application of the law to protect the rights of children made by the
government is proven to have many obstacles because it clashes with the social system and
cultural roots of Indonesia, which for the most part still discriminates against children and
women. this resulted in an increase in the number of human trafficking from year to year.
PureHeart invites all of us to open our eyes to see the existence of child trafficking and
exploitation that is happening around us and open our minds to play an active role against
child trafficking because they deserve to get their rights through the #LoveMeSeeMe
community.
In collaborate with PIE one of bussines that focuses on developing digital identity data
(Digital Identity) so that it can be used for identity verification and recording so that it cannot
be falsified and is expected to be a solution to be able to reduce cases of human trafficking.
Information about PIE can be found at www.pie.co.id
More information:
Love Me, See Me!: https://pureheart.ledgernow.com/category/love-me-see-me/
Source : https://nasional.kompas.com/