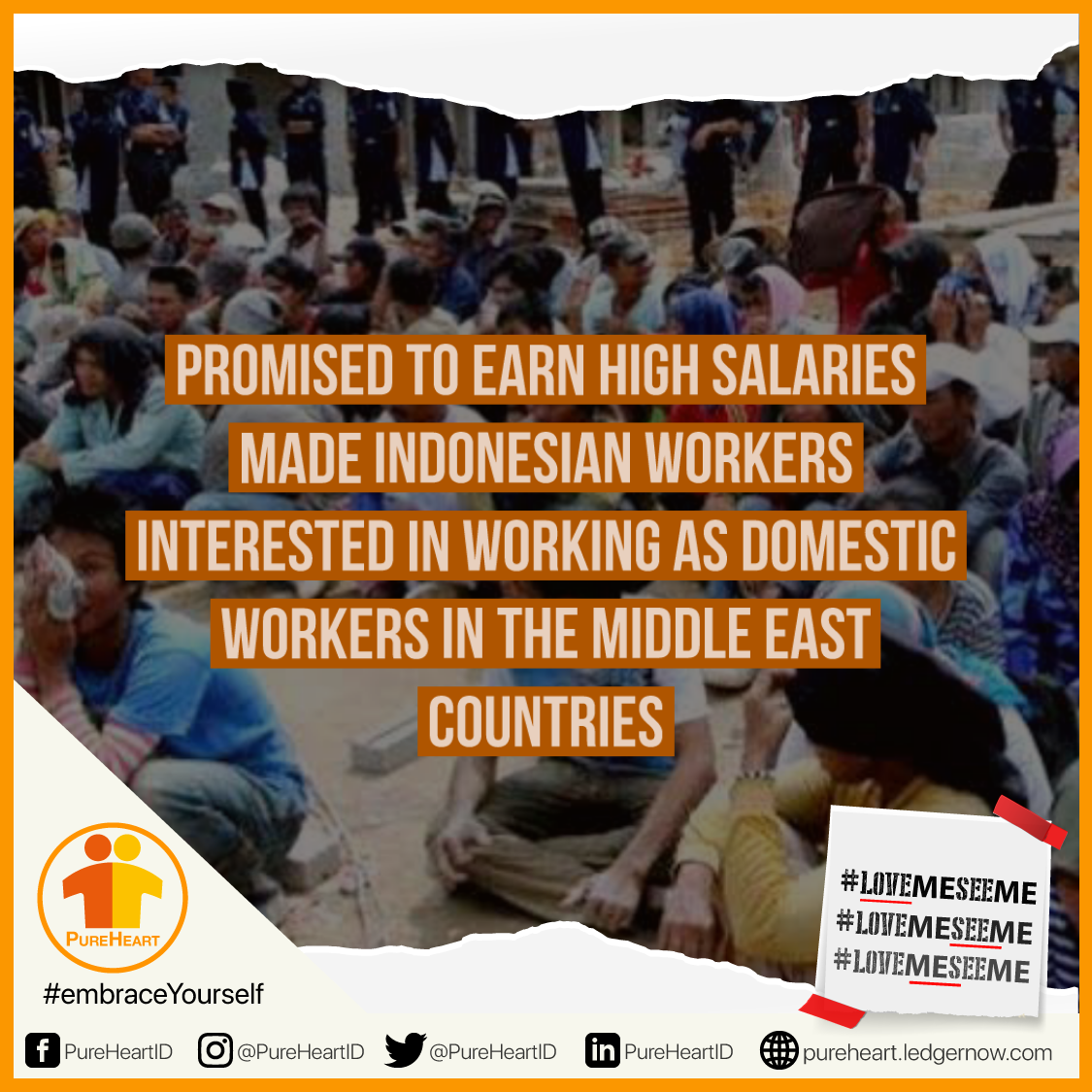 Dijanjikan gaji yang tinggi, alasan pekerja di Indonesia tertarik untuk bekerja sebagai buruh di Timur Tengah

Delapan orang ditangkap sebagai pelaku dalam kasus dugaan perdagangan 1.200 orang ke negara-negara di Timur Tengah sebagai tenaga kerja ilegal. Buruh pabrik asal Tangerang, dijanjikan bekerja di Arab Saudi dengan gaji Rp 5 juta per bulan. Awal tahun 2018, ia dikirim ke Malaysia, Dubai, Turki, Sudan, Suriah, hingga Irak. dan selama itu sama sekali tidak menerima gaji dan disiksa oleh majikannya di Suriah. Kasus ini hanyalah satu dari drama perdagangan manusia yang terbongkar, dan masih banyak kasus lainnya yang tidak diketahui dan kita tidak sadari #LoveMeSeeMe (https://pureheart.ledgernow.com/category/love-me-see-me/)
Untuk memastikan pekerja Indonesia tidak bekerja sebagai tenaga domestik di negara Timur Tengah cukup sulit karena rayuan para calo dan keterbatasan APBN untuk melakukan penyuluhan warga. Hal ini tentu saja menjadi pekerjaan rumah bagi pemerintah yang seharusnya dapat diselasaikan dalm waktu yang singkat agar tidak terdapat korban lagi.
PureHeart mengajak kita semua untuk membuka mata melihat adanya perdagangan manusia dan eksploitasi yang terjadi disekitar kita dan membuka pikiran untuk berperan aktif melawan perdagangan manusia karena mereka pantas untuk menentukan kehidupannya melalui Program #LoveMeSeeMe
Bekerjasama dengan LedgerNow sebagai salah satu bisnis yg menciptakanaplikasi enterprise yg fokus pada digital identity dan business automation menggunakan teknologi blokchain agar menciptakan registrasi dan validasi yang aman untuk pekerja sehingga tidak mudah dipalsukan dan diharapkan menjadi solusi untuk dapat mengurangi kasus perdagangan manusia. Informasi mengenai LedgerNow dapat dilihat di:www.ledgernow.com/
Promised to earn high salaries made Indonesian workers interested in working as domestic workers in the Middle East countries
Eight people were arrested as perpetrators in a case of alleged trafficking of 1,200 people to countries in the Middle East as illegal labor. Factory workers from Tangerang, promised to work in Saudi Arabia with a salary of Rp. 5 million per month. Beginning in 2018, he was sent to Malaysia, Dubai, Turkey, Sudan, Syria, to Iraq. and during this time he did not receive a salary and was tortured by his employer in Syria. This case is just one of the revealed human trafficking dramas, and many other cases are unknown and we are not aware of #LoveMeSeeMe (https://pureheart.ledgernow.com/category/love-me-see-me/)
To ensure that Indonesian workers do not work as domestic workers in a Middle Eastern country is quite difficult because of the seduction of brokers and the limited state budget to educate citizens. This is of course a homework for the government which should be accomplished in a short time so there are no more victims.
PureHeart invites us all to open our eyes to see trade people and the exploitation that takes place around us and opens our minds to play an active role in fighting human trafficking because they deserve to determine their lives through the #LoveMeSeeMe community
Collaborate with LedgerNow as one of the businesses that creates enterprise applications that focus on digital identity and business automation use Blokchain technology to create secure registration and validation for workers so that they are not easily falsified and are expected to be a solution to reduce the case of human trafficking. Information about LedgerNow can be seen at: www.ledgernow.com/ 
More information:
Love Me, See Me